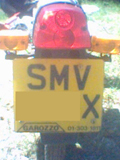 16/02/2012 This page will document the rebuild / restoration of my first moped. I bought SMV for £195 pounds on the 4th November 1996. At the time I needed a way of getting to and from college and work, and I couldn't yet afford my driving lessons, so the only practical way of getting about was on two wheels. I scanned the local papers and came across the ad for SMV. It had a years MoT, and had recently been serviced, so off I went with my dad to have a look. After briefly looking at the bike and a chat with the owner, the deal was done and I ended up riding it home.
Unfortunately back in 1998 after leaving it at work, someone I knew and worked with decided (without my permission) that he'd cut the locks off and drill the steering lock out so he could strip it down to use in a Moped Mayhem event. When I went back to work I noticed my bike wasn't where I left it, and started asking questions. I eventually found it under the shop in a half stripped state (see pics). After going to have a chat to the bloke, I went back to a mates house, but I didn't know things were about to get worse.
The next morning I received a phone call from another friend to say that after I left the night before, the bloke I had spoken to had gone up to the shop and chucked everything out on the road. The area isn't a very good one, and anything with two wheels is fair game for any theif. My friend at the time picked up what he could, but the bike had to stay stood in the road with a bit of old carpet draped over it. After the phone call I flew down to the shop, and to my amazement my bike was still standing in the road untouched (a total of twelve hours).
From that day to this it has been moved from garage to garage without being put back together, so after 12 years of promising to rebuild it, I've decided the time has now come! The pics show the state in which I found the bike, although the rear light and number plate weren't fitted.
I plan to get the bike home in the next month or so, so I doubt there will be an update until then, but the moment anything happens, I will post it up. By the way, appologies for the crappy phone pics.